GOD HAS CALLED EVERY BELIEVER TO THE WORK OF MINISTRY
The local church is a means of enacting the Gospel message and we – a body of believers – are the church. God has graciously given His followers a spiritual gift (1 Corinthians 12:7) and the church provides a means of learning about our created giftings and participating in the work God is doing in the Carlisle community.

We – the church – are extending hospitality, connecting kids to Christ, investing in relationships, creating opportunities for worship and more! Won't you consider being a part of the Mission?
The Guest Services Team includes Greeters, Ushers, Offering Counters, Brew Crew and Welcome Desk Volunteers. Did you know that first impressions are often lasting impressions? Our Guest Services Team members help to foster a warm, inviting atmosphere, assist in answering questions, and ensure guests attending worship can focus on the service without avoidable distractions or discomfort. Want to learn more about joining our team?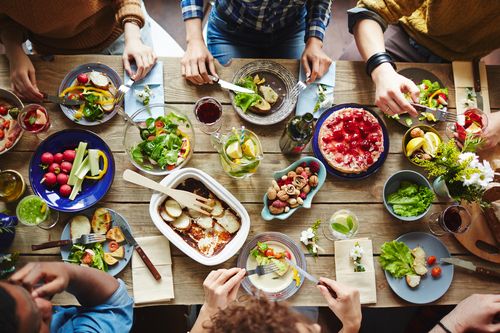 Hospitality consists of two areas of service: serving meals for special events and preparing meals for families in needs. Help guests feel the love of God through Church functions or provide meals to shut-ins, funeral services, and families in need. Join our Hospitality-Events or Hospitality-Meals team!
Kids Cove is a place where infants-5th grade children experience God, make friends, and have lots of fun! Whether working directly with children through Bible Stories, worship and small group activities or supporting our check-in and registration process, you can play a part in Connecting Kids to Christ. Learn more about joining our Kids Cove team!
Student Ministry encompasses grades 6-12. Our hope is to see every middle and high school student in the Greater Carlisle Area live All of Life for Christ! Discover how you can invest relational equity into teenagers to help them grow in their faith with Jesus!
From in-person services to Facebook Live, our production team works behind-the-scenes to simultaneously bring together sound, cameras, screens and lights in order to foster an environment conducive to worship where guests will be able to receive the Gospel message without distraction. Join our community of creatives! No experience required.
Music is a gift from God and a tool to help people worship their Savior. At CEFC, music serves as a means of expressing authentic worship and praise to God, recognizing Him for who He is and what He has done. If you are looking to use your talents to honor God and foster meaningful worship to those who attend Sunday services, consider joining our Worship team.
Colossians 3:23-24 reads, "Whatever you do, work heartily, as for the Lord and not for men…You are serving the Lord Christ."

The church facility is for people; and caring for it helps us to minister to and care for others. Consider serving seasonally (April-October) with the Grounds & Facility team who assist in maintaining the landscape of the church grounds. Volunteers (ages 18+) are needed to assist with mowing, removing weeds, mulching, and planting new greenery. Training will be provided.
Do you live in Mount Holly? Are you looking for ways to serve the Mount Holly campus at 101 Watts Street? Whatever your gifts – there is a place for you to serve at Mount Holly.